I bought this at work on discount - which is lucky, because full-price RRP is an immense £25. Although hardback, I'm not really sure if it's worth such a price tag. I started to read, and finished in a couple of days. The book, by Craig Taylor, compiles a series of London lives - from the high to the low, the young to the old, with one thing in common: London.
The lives featured are varied and wide-spread across the city. Though contradictory in their opinions and approaches to life and to London, their common denominator is that they all say
something
important about the city. My one criticism is that they are, mostly, quite mainstream. Teachers, paramedics and taxi drivers make up the bulk of the stories; there is a sense that these are the people who talk about the weird and wonderful that contribute to London - they are not given a voice for themselves.
One of the most interesting points to come out of the book is that theatre and the creative arts are allowed to flourish BECAUSE of bonuses and those earning immense amounts of money supporting the arts. The speaker notes how the creatives and ''artists'' tirade against high-earners, but if they didn't have the money to spend, we wouldn't have the theatre and arts culture we have today. The point is, I think, an interesting connection between the big-earners and the protestors and artists who despise them. These polar opposites all exist alongside each other in London, walking the streets, sharing a tube train. If you want to hear their stories, this is the book for you.
The Gruffalo's Child (BBC One, Christmas Day)
The sequel to the previous animation 'The Gruffalo', this was, in my opinion, one of the few family-orientated things made for Christmas TV. This was a real Christmas treat, and one of the few productions that truly captured the festive spirit on screen.
Based on the second of Julia Donaldson's (the new Children's Laureate) Gruffalo books, the thirty-minute animation had a style, colour scheme and soul just as well-defined as 2009's 'The Gruffalo'. The snow, the wonder and the adventure is family-orientated, and immensely Christmassy - perfect for seasonal television.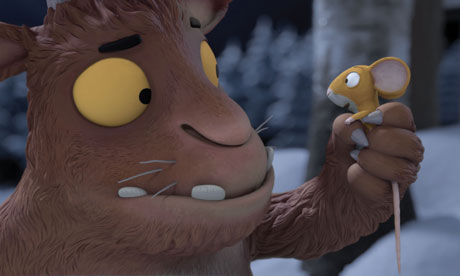 The slight flaws in the story - its episodic style and lack of clear message - were the fault of Donaldson, not this production. But with the voice talents of Coltrane, Bonham-Carter and Hurt, who can complain? The animation was funny, exciting and heart-warming - exactly the sort of thing the BBC should be investing in. It's always refreshing to see animation on a large platform, and when it's as good as this, it's a struggle to see why there's such little animation on primetime.