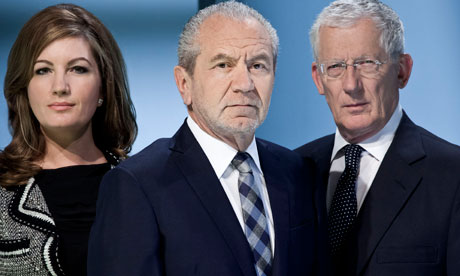 It's back. Just when you thought the UK had used up every single arsehole we have, we've found another reserve deep in Canary Wharf, and here are another sixteen - including a pro-wrestler, an architect and the token 'entrepreneur'. God bless BBC1.
In the 'dun dun dun dun dun dun dun dun dun dun dun dun duuuuuh' scenes which begin every episode, we saw them take the train, tube, escalator, lift, tram, segway, where the candidates ran, walked, crawled and swam to the boardroom. Amongst the best 'shocking-first-quotes-of-the-series' we had 'I can be like an animal and I will literally roar my way to the top' because that's how the Animal Kingdom works - loudest roar wins, according to Gabrielle. We had 'they call me the master puppeteer' which is a funny way for your friends to pronounce 'bellend', Azhar. But winner of the 'I'm a twat' award went to Ricky Martin, firstly for being named after the Livin La Vida Loca superstar, and not capitalising on it, but also for saying 'I truly am the reflection of perfection'. Outstanding.
The candidates for the 2012 series are an odd bunch - none pop out immediately as naturally charismatic, they all (more than ever before) seem attention-seeking and useless, and it will be interesting to see if this adds to, or reduces the quality of the series. What I noticed about this series' applicants, is that Sugar decided to choose some of the best professional look-alikes, then make them PRETEND that they had other day jobs and were ACTUALLY and LITERALLY business-minded. What a lark! We were greeted by the following jokers (I've provided photos of their celeb counterparts, for ease of reference).
'Ricky Martin'
Karofsky off of Glee
Jenna Whittingham
Carol Mcgiffin
Mario O'Connor
An actual prostitute
Sugar reads 'this is not about a job anymore' (not surprising, seeing as all past winners have quit or 'separated from the company') over the slick and catchy shots of high-rise London, as we learn about Sugar's 'success story from a market stall' yawn yawn yawn get over the market stall, Alan. In this recap of the next twelve weeks, nothing much seems to happen. Noone even got covered in ice-cream mix or ANYTHING! Poor show, guys. And Sugar's new 'You're fired, you're fired, *blah blah blah* you're fired!' for this series is revealed. 'This is my boardroom and by the way this is my money - you're fired'. And my hopes for Sugar's classic one-liners goes down the toilet because IT'S ALL GOT A BIT SERIOUS.
Now, The Apprentice has got further and further away from actually revealing how the task is to work, and this episode was no exception. The basic brief was 'you've got to run a print business where stuff gets printed on and you sell it'. Now, this isn't really OK because you can't judge someone's performance on a task if you don't know what they're supposed to be doing. The boys were discussing what to print and I think everyone was yelling at the TV 'WHERE ARE YOU SELLING AND WHO ARE YOU SELLING TO'. If this had been laid out clearly, we'd all have been on the same page for saying how shit these people were on Twitter. If this happens in every episode this series, it really will push this programme further and further away from serious 'business', and Twitter will be too confusing. We can't have that.
Now, I'm not saying I want bare-knuckle gypsy fighting or illegal dogfighting rings, but there really could have been more competition for naming the groups this episode - we only get the joys of people saying 'Team animal cos we're like animals!' with straight faces once a year. The boys all settled on 'Phoenix' and the girls settled on 'Sterling' - two of the most God-awful names ever chosen I think you can agree. I wanted Nick to yell across the table 'CALL YOURSELF THE NOISETTES BECAUSE YOU'RE MAKING NOISE IN THE BUSINESS WORLD' and for Karren to make lewd bawdy jokes, but now we're stuck with 'Phoenix' and 'Sterling'. This situation is not sterling.
Now, as the episode progressed, I almost switched off. The girls had cute designs, but the boys had made rubbish BUS BAGS - I think we all knew who was going to win. As usual, the girl group couldn't harmonize, and fell out during sales, and we had an Irish girl yelling out everyone's mistakes but her own. The boys seemingly were doing rubbish because their fist-sized bears were fifteen bloody quid!
As we got into the boardroom, past a new fake secretary, pretending to write with a fake pen next to a fake computer, Alan criticised the bus designs, and everyone praised Nick - the project manager. Not Nick Hewer, Lord Sugar's aide. Oh imagine the confusion. What fun we will have with this 'situation'. IMAGINE THE JOKES.
Surprisingly, the girls lost - even though I hate tote bags, they were pretty good tote bags,as tote bags go. This outcome was quite surprising to everyone involved but - thank heavens - we could frequent the Bridge Cafe to discuss! As this descended into political CHAOS, an unnamed source (probably the production team - imagine spending time with these girls) yelled 'SHUT UP' to quieten down the rabble, and this did the trick. The girls did sneak off outside for some to-camera bitching though. Sneaky.
The first boardroom of the series. There's normally one idiot that is sure to go, and everyone treads on eggshells trying to second guess Alan - NOT THIS YEAR BABY. Bilyana seemed to make a bet with the fake secretary outside, whereby she'd get paid 20p for every single word she said in the boardroom. All I could think was that Sugar probably hasn't spoken this much in eight series of the show. This wound up little Al so he fired him, after almost pointing the finger at Katie, and as she got a solitary taxi back home, the rest of the candidates pretended to be thrilled that these people they barely know and are competing against are still in the competition. Yaaay!
See you next week for more failings from the business world! Might even live-tweet the episode from @Jakeshaker if you're lucky.
Who should win?:
Ricky Martin because it's too early to call but he is Livin La Vida Loca.
Written for Great and Gold.