Etgar Keret - Suddenly, a Knock on the Door
This book of short stories, translated from the Hebrew by Miriam Shlesinger, Sondra Silverston and Nathan Englander, is an absolute marvel. Keret is an Israeli writer, but the stories have a resonance of the most classic of stories, in addition to their deeply geogaphical grounding.
So, the stories themselves. They are very short - each about three pages - and, overall, very traditional in form. Keret plays with the ideas of beginning and ending - throwing us into each story at any given point. He questions the very nature of 'the story' and how it is constructed, giving each tale a different measure and style of roundness and closure. Keret uses language, and the traditional conventions of language to pull the rug out from under us, most specifically in 'Parallel Universes'. He'll fix us into one comfortable place, and with a sentence, phrase or word, will throw us in another direction - challenging traditional conventions of storytelling and narrative.
The best story is 'What Do We Have In Our Pockets', a profound and simplistic tale about dreams, one very much for our times. Others to look out for are 'Unzipping' and 'The Story, Victorious'. Keret's stories are fine modern fables, simple clear and understated, but with important messages on humanity and on modern Israel. There is something of the Carteresque transformation in his stories, and much is made of the quality and nostalgia of stories. Read this collection - it's fun, warm and imaginative.
Tess of the D'Urbervilles - Thomas Hardy
Finally got round to actually reading Hardy's classic novel. I'm a big fan of the 2008 BBC serial, starring Gemma Arterton, and a big fan of Hardy's poetry - 'Tess' did not disappoint.
The book is melancholic, sparing and bleak in all the right places, and puts a heavy importance on the very painful nature of existence itself, and the weights and justifications, religious or otherwise, of fairness and hardship. Whilst this, in study guides and notes, is inextricably tied up in the motif of birds, and the fact that their free trajectory creates work and hardship for Tess (a servant), I found Hardy's prose to be the most indicative example of the theme. Hardy possesses a mastering of prose reserved for a rare few, and in his writing manages to take the roles of narrator and of individual characters in a distinct and beatific direction, which can manage to be separate but consistent. His musings are never bloated or unclear - what other writers manage in a page, Hardy manages in a sentence, and Tess is given such eloquent interior dialogues, it is impossible not to fall for her.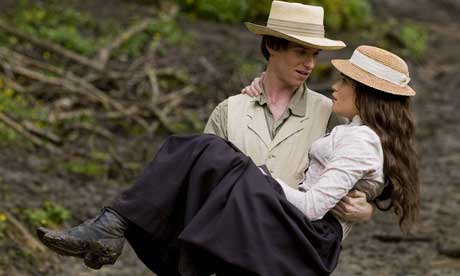 'Tess' is an austere and endearing tale of male patriarchy but in this woeful tale, there is a spirit and eloquence to Tess as a character that keeps the story from being a mere miserable 500-page drudge. The love story, though oddly structured and untraditional, is a masterpiece. Hardy has a perceptive and individual way of writing on nature, time and death - to find it in a more prolonged form than his poetry and to find closely-linked poetic observations in spades, go to 'Tess'. His paragraph on the day we die, the basis for
Nicholls' 'One Day', is sublime.
Other Stuff That Was Less Fab:
Bret Easton Ellis - The Rules of Attraction
Whilst this is meant to be a tale of Ellis' generation, it seems to portray weak, selfish and self-protecting characters, despite comparisons with Gatsby. In the way that Fitzgerald exhibits his era with class, poeticism and sympathy, Ellis gives us a tawdry and filth-ridden view of a set of characters. This may be the point - the 'lost generation' as it were, portrayed here in its college years, has no beauty, standards or meaning. But is a novel not supposed to give meaning, connections or original thought to such a situation?
Ellis demonstrates a great ability to pause in time the moment that is college, with its expectations, sexual gratification and exploration of the self. However, it is by no means a fun, endearing or solely enjoyable read. I'll move onto American Psycho next - hopefully a more idea-based version of this.