The Voice
continued this week. Jessie J's microphone 'wasn't on' during a live performance and she had to restart. In a live-TV pub somewhere in Soho, Danny Cohen, BBC One Controller, hit the table and yelled 'I WISH I COULD RESTART THIS ENTIRE FORMAT'. He then destroyed 'Man Who Can't be Moved' at a karaoke bar and slipped into a pieceful dream about working at ITV. But anyway - what is still wrong with The Voice? Is it Holly Willoughby's inappropriate hooker outfits? William's limited vocabulary? The stage that they nicked from Fame Academy and painted red? HERE ARE MY THOUGHTS:
The Format So the first week we had the ridiculous chair auditions so they could pretend it was about 'the voice', then those weeks where we all sat and watched fat people scream at each other in a faux-boxing ring, in some sort of contest where the first to get a vocal hernia was the winner. Now, we're on some weird system whereby alternate groups sing on alternate weeks so we forget all about some acts for a fortnight. But no wait, they've thought this through - they get Tyler James to pop up every other week and warble his way through a Florence and the Machine track and have ridiculous group numbers that noone likes. That's solved the problem right?
Jessie J Being a Fucking Moron Now this twat is pretty thick but surpassed herself on Sunday when she, before the results show was aired in the evening, posted on Twitter a picture of the two contestants who were through to the next week. I'd assume there was something against this in the contract, oh and also I presumed that no adult would be this stupid. I was wrong.
Danny 'My name's Danny From-The-Script and I wear double denim and I sing and stand and wave my arms during everyone's track and say outlandish things about acts like 'I can't wait to duet with you' and think standing ovations are the norm in all of life and also all my song selections are chosen from the Magic FM compilation album Fearne Cotton gave me in 2009' SOD OFF JIMMY
The Opening Titles, Theme Song and Editing They're shit.
Standing Ovations I'll spell this out one more time for you Danny/William, YOU STAND UP WHEN SOMETHING IS EXCEPTIONALLY GOOD NOT WHEN SOMEONE ATTEMPTS AN R&B VERSION OF AN ADELE ALBUM TRACK WHERE THEIR 'CHOREOGRAPHY' CONSISTS OF WALKING AROUND THE PIANO ONE TIME.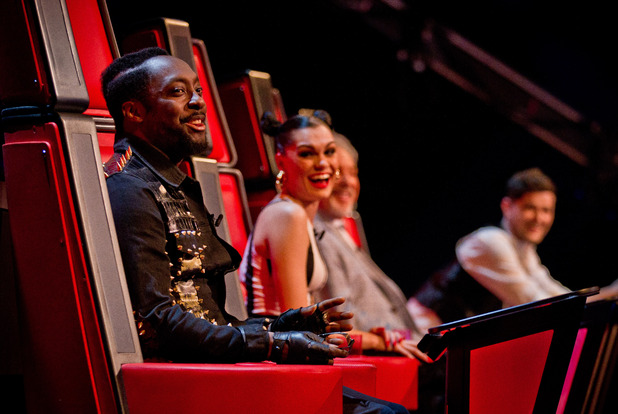 The Lack Of Talent Now I'm not kidding but everyone's quite bad and even when they are good, the judges (I shan't call them coaches because their entire role is bullcrap) and producers make them look bad:
One example is the guy that used the loop pedal, which everyone treated like a deity. Jessie: 'so much could have gone wrong and it didn't so well done'. That is commensurate to saying 'well you played a guitar and the guitar could have spontaneously combusted or you could have forgotten how to play it mid-song but you didn't so well done'.

Another example is Aleks Josh who was actually pretty good but got told to sing one of the most boring 'singer-songwriter anthems' of all-time. Basically either the producers are setting these songs and getting it all wrong, or the judges and contestants have no idea how to showcase talent or perform properly and actually think they are doing a good job. Let me tell you now, Will.I.Am, YOU'RE NOT.
JUST A HEADS UP THE BBC, YOU NEED TO RADICALLY ALTER THIS SHOW FOR THE NEXT SERIES OR TWENTY-TWO MILLION POUNDS HAS BEEN PISSED DOWN THE LEG OF THE LICENSE FEE PAYER AND INTO THE DRAIN.